Outbreaks, Zombies, Walking Dead, Bill Gates. How To Be Prepared.
The 2014–2015 Ebola outbreak showed us just how unprepared we are to fight a fast-spreading epidemic.
"If anything kills over 10 million people in the next few decades, it's most likely to be a highly infectious virus rather than a war. Not missiles, but microbes."
When the Ebola outbreak struck Western Africa, the world's response revealed the lack of a good systems to fight global viruses.
"Let's look at Ebola…The problem wasn't that there was a system that didn't work well enough; the problem was that we didn't have a system at all."
The factors that slowed the spread of Ebola were the heroic efforts of medics, the virus's low contagion capability, and the outbreak's concentration in rural areas.
"The failure to prepare could allow the next epidemic to be dramatically more devastating than Ebola."
We should harness military planning, training, communication and mobilization capabilities to respond and contain such outbreaks.
"If there's one positive thing that can come out of the Ebola epidemic, it's that it can serve as an early warning, a wake-up call, to get ready. If we start now, we can be ready for the next epidemic."
Preparing for global outbreaks will include strengthening health care in developing countries, creating a medical reserve corps, and investing heavily in research and development of life saving vaccines and medicine.
---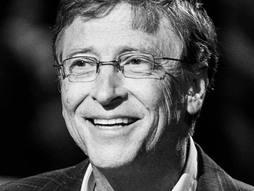 The Next Outbreak? We're Not Ready
TED Conferences LLC
2015
Video
TED
Bill Gates
Philanthropist, Co-founder of Microsoft & The Bill & Melinda Gates Foundation.
Bill Gates is the founder and former CEO of Microsoft. A geek icon, tech visionary and business trailblazer, Gates' leadership -- fueled by his long-held dream that millions might realize their potential through great software -- made Microsoft a personal computing powerhouse and a trendsetter in the Internet dawn. Whether you're a suit, chef, quant, artist, media maven, nurse or gamer, you've probably used a Microsoft product today.
In summer of 2008, Gates left his day-to-day role with Microsoft to focus on philanthropy. Holding that all lives have equal value (no matter where they're being lived), the Bill and Melinda Gates Foundation has now donated staggering sums to HIV/AIDS programs, libraries, agriculture research and disaster relief -- and offered vital guidance and creative funding to programs in global health and education. Gates believes his tech-centric strategy for giving will prove the killer app of planet Earth's next big upgrade.
Read a collection of Bill and Melinda Gates' annual letters, where they take stock of the Gates Foundation and the world. And follow his ongoing thinking on his personal website, The Gates Notes. His new paper, "The Next Epidemic," is published by the New England Journal of Medicine.